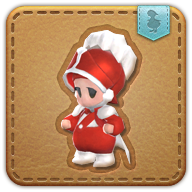 Wind-up Onion Knight
Summon your magic wind-up onion knight minion. An accurate representation of the soldiers who once made up the greater portion of the Allagan Imperial Army.
If Sons of Saint Coinach anthropogeographer Rammbroes is to be believed, towards the end of their civilization, the Allagans began using automata such as this to fight their wars (which had been deemed inhumane, yet ultimately necessary to spread imperial peace).
---
Learn more about this minion on Apkallu Falls: Wind-up Onion Knight
Type
Auto-Attack
Single-target
HP
ATK
DEF
SPD
Cost
430
30
60
4
15
Strengths
Eye
Special Action
Onion Skin
Renders action party immune to all attacks.
0x48>0x49>Duration:0x49>0x48> 6s
Points
Action type
20
Enhancing