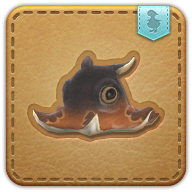 The Prince Of Anemos
Summon your Prince of Anemos minion. Cute and cudgely.
Much to the chagrin of his father─the Lord of Anemos─the young heir has yet to outgrow the odd habit of concealing cudgels and using them to bludgeon anyone who dares question his merits. Thankfully, an absence of thew leaves his lively blows lacking.
---
Learn more about this minion on Apkallu Falls: The Prince Of Anemos
Type
Auto-Attack
Single-target
HP
ATK
DEF
SPD
Cost
430
30
20
3
10
Strengths
Gate Eye Shield
Special Action
Dipsy Duel
Delivers an attack with a potency of 150 to all enemies within range while reducing DEF by 30%.
0x48>0x49>Duration:0x49>0x48> 6s
Points
Action type
20
Damage