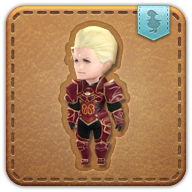 Wind-up Nero Tol Scaeva
Summon your wind-up Nero tol Scaeva minion. Better engineered than the wind-up Cid. In every way.
This automaton incorporates a special mechanism that allows it to grip its weapon more effectively. This revolutionary innovation puts it above any wind-up toy currently in production, especially those crafted by the Garlond Ironworks.
---
Learn more about this minion on Apkallu Falls: Wind-up Nero Tol Scaeva
Type
Auto-Attack
Single-target
HP
ATK
DEF
SPD
Cost
420
50
60
3
20
Strengths
Gate
Special Action
Reverse Engineering
Triggers an enemy trap as if it were your own. If the trap deals physical damage, then potency is increased by 150%.
Points
Action type
30
Damage