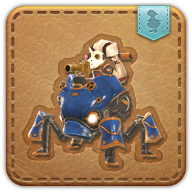 Steam-powered Gobwalker G-VII
Summon your steam-powered gobwalker G-VII minion. Exhaust can be used to steam hams.
This tiny machine is a prototype for the newest model of steam-powered warmachina being mass-produced by the fanatical goblin academics known as the Illuminati. Over a thousand crabs were caught, studied, and subsequently devoured to perfect the current design.
---
Learn more about this minion on Apkallu Falls: Steam-powered Gobwalker G-VII
Type
Auto-Attack
Single-target
HP
ATK
DEF
SPD
Cost
330
30
70
2
15
Strengths
Gate Eye
Special Action
Steam Cannon
Reduces HP of closest enemy Gate by 60%. No effect if Gate is already inoperable.
Points
Action type
30
Dismantling