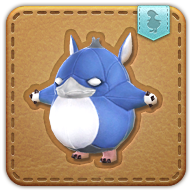 Wind-up Gundu Warrior
Summon your wind-up Gundu warrior minion. He weighs far less than he appears.
Created by a Gundu shaman using techniques similar to those employed to craft battle totems, this animated doll contains no wheels or gears, but is rather propelled by an ancient Gundu enchantment known only to a handful of village elders.
---
Learn more about this minion on Apkallu Falls: Wind-up Gundu Warrior
Type
Auto-Attack
Single-target
HP
ATK
DEF
SPD
Cost
420
35
30
2
10
Strengths
Gate Eye
Special Action
Sunrise Dance
Increases action party ATK by 40.
0x48>0x49>Duration:0x49>0x48> 15s
Points
Action type
20
Enhancing