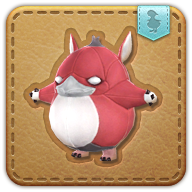 Wind-up Zundu Warrior
Summon your wind-up Zundu warrior minion. Like a spring wind, the Zundu warrior is strong...until he winds down.
A sign of friendship between the Zundu and Gundu tribes, this animated doll was created using a myriad of sacred items enchanted by an elder shaman. It is unclear how, without clockwork, the warrior can walk on its own, but its maker remains silent on the techniques he employed.
---
Learn more about this minion on Apkallu Falls: Wind-up Zundu Warrior
Type
Auto-Attack
AoE
HP
ATK
DEF
SPD
Cost
630
45
30
2
25
Strengths
Special Action
Sundrop Dance
Increases ATK of all allies within range by 25.
0x48>0x49>Duration:0x49>0x48> 6s
Points
Action type
20
Enhancing