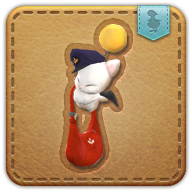 Wind-up Delivery Moogle
Summon your wind-up delivery moogle minion. For when you absolutely, positively require moogle accompaniment.
The never-ending flow of adventurers into Eorzea has placed quite a burden on the realm's little letter carriers. To help lighten their load, several acolytes at the Goldsmiths' Guild volunteered their time to create a veritable army of miniature mail moogles.
---
Learn more about this minion on Apkallu Falls: Wind-up Delivery Moogle
Type
Auto-Attack
AoE
HP
ATK
DEF
SPD
Cost
370
45
60
3
20
Strengths
Gate
Special Action
Chain Letter
Reduces DEF of all enemies within range by 25%.
0x48>0x49>Duration:0x49>0x48> 6s
Points
Action type
20
Enfeebling