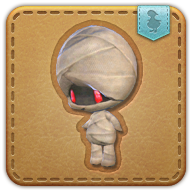 Mummy's Little Mummy
Summon your mummy's little mummy minion. While as cute as a button, remember, mummies are ultimately embalmed corpses damned to eternal thralldom in the land of the living. Have fun.
It is believed that the ancient technique of mummification─which involved embalming, organ removal, wrapping, and the burial in a multilayered sarcophagus─was an expensive undertaking. That it was performed on a child can attest to his parents' devotion.
---
Learn more about this minion on Apkallu Falls: Mummy's Little Mummy
Type
Auto-Attack
Single-target
HP
ATK
DEF
SPD
Cost
475
35
40
1
15
Strengths
Arcana Gate Shield
Special Action
Forty-thousand-year Funk
Inflicts a weakness to 0x48>0x49>monsters0x49>0x48> on all enemies within range.
0x48>0x49>Duration:0x49>0x48> 15s
Points
Action type
20
Enfeebling