I don't speak a word of German. Every guide is written in English. If you want to help, please send me an email or contact me on Facebook. You can also help me translate missing words for the interface. Thanks!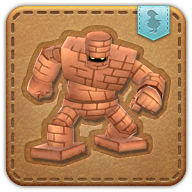 Golem
Du rufst deinen Golem als Begleiter herbei. Nicht so groß wie das Original, aber so süß, dass er jeden Stein zum Erweichen bringt.
Ein überraschender Nebeneffekt der Katastrophe sind die vielen Ätherrisse, die sich überall in Eorzea auftaten, und aus denen die seltsamsten Geschöpfe entfernter Dimensionen hervortreten. Dieser bizarre Steinmann ist nur eins davon.
---
Learn more about this minion on Minion Guide: Golem
Art
Auto-Attacke
AoE
LP
ATT
ABW
GSW
Kosten
410
30
35
2
10
Stärke
Technik
Kraftfokus
Erhöht die ABW der ausführenden Trabanten um 40.
0x48>0x49>Dauer:0x49>0x48> 10 Sekunden
Points
Action type
20
Enhancing