I don't speak a word of German. Every guide is written in English. If you want to help, please send me an email or contact me on Facebook. You can also help me translate missing words for the interface. Thanks!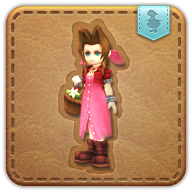 Aerith-Puppe
Du rufst deine Aerith-Puppe als Begleiter herbei. Wenn alles vorbei ist, seht ihr euch wieder!
Vom Blumenmädchen aus dem Hinterhof zur Retterin des Planeten: Was für eine beeindruckende Karriere! Ob es zum Date im Riesenrad gereicht hat, wissen nur Eingeweihte. Ansonsten sieht man sich, wenn alles vorbei ist!
---
Learn more about this minion on Minion Guide: Aerith-Puppe
Art
Auto-Attacke
Einzel
LP
ATT
ABW
GSW
Kosten
430
35
55
2
15
Stärke
Technik
Große Lehre
Macht eigene Trabanten in der Nähe unempfindlich für Angriffe von Tieren.
0x48>0x49>Dauer:0x49>0x48> 5 Sekunden
Points
Action type
20
Enhancing