I don't speak a word of German. Every guide is written in English. If you want to help, please send me an email or contact me on Facebook. You can also help me translate missing words for the interface. Thanks!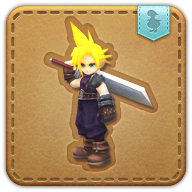 Cloud-Puppe
Du rufst deine Cloud-Puppe als Begleiter herbei. Ist einem legendären Helden nachempfunden und wirkt... schrecklich desinteressiert.
Um den legendären SOLDAT-Kämpfer Cloud möglichst getreu nachzubilden, hat man keine Kosten und Mühen gescheut und sogar das berühmte Panzerschwert bis auf die letzte Scharte repliziert. Ist dem Original natürlich völlig egal...
---
Learn more about this minion on Minion Guide: Cloud-Puppe
Art
Auto-Attacke
Einzel
LP
ATT
ABW
GSW
Kosten
490
75
65
3
30
Stärke
Schilde
Technik
Omnischlag
Führt eine Attacke mit Attacke-Wert 380 auf die Gegner in der Nähe aus.
Points
Action type
60
Damage