I don't speak a word of German. Every guide is written in English. If you want to help, please send me an email or contact me on Facebook. You can also help me translate missing words for the interface. Thanks!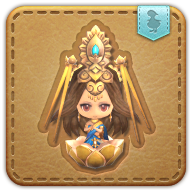 Lakshmi-Puppe
Du rufst deine Lakshmi-Puppe als Begleiter herbei. Sie ist wunderschön.
Dass die Puppe nicht unvollendet blieb, ist nur einem Lehrling zu verdanken, dessen zur Perfektion neigender Meister sich nach der flapsigen Bemerkung des Auftraggebers ("Geht so.") das Leben nahm.
---
Learn more about this minion on Minion Guide: Lakshmi-Puppe
Art
Auto-Attacke
AoE
LP
ATT
ABW
GSW
Kosten
320
30
55
1
10
Stärke
Schilde
Technik
Feuchter Schmatzer
Regeneriert bei den eigenen Trabanten in der Nähe 100 LP, im Fall von Monstern 150.
Points
Action type
30
Restoration