I don't speak a word of German. Every guide is written in English. If you want to help, please send me an email or contact me on Facebook. You can also help me translate missing words for the interface. Thanks!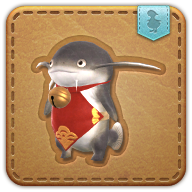 Aufzieh-Namazuo
Du rufst deinen Aufzieh-Namazuo als Begleiter herbei. Bitte regelmäßig befeuchten.
Die Händler von Radz-at-Han haben selten einen Verkaufsschlager erlebt wie die Nachbildung der Fffischwesen mit der fffeuchten Aussprache. Manche Haushalte hatten sogar zwei.
---
Learn more about this minion on Minion Guide: Aufzieh-Namazuo
Art
Auto-Attacke
Einzel
LP
ATT
ABW
GSW
Kosten
510
60
55
3
25
Stärke
Augen Schilde
Technik
Bartelgrapscher
Entfernt alle positiven Effekte von den gegnerischen Trabanten in der Nähe.
Points
Action type
20
Disarming