I don't speak a word of German. Every guide is written in English. If you want to help, please send me an email or contact me on Facebook. You can also help me translate missing words for the interface. Thanks!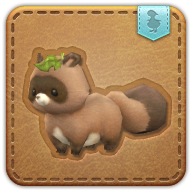 Bom Boko
Du rufst Bom Boko als Begleiter herbei. Was für ein drolliges Geschöpf!
Die Marderhunde des Fernen Ostens führen ein vollkommen anderes Leben als ihre eorzäischen Artgenossen. Sie durchwühlen keinen Müll und verwandeln sich liebend gerne in Teekessel. Warum auch immer.
---
Learn more about this minion on Minion Guide: Bom Boko
Art
Auto-Attacke
Einzel
LP
ATT
ABW
GSW
Kosten
450
30
80
3
20
Stärke
Schilde
Technik
Mardermasche
Erhöht die ABW der ausführenden Trabanten um 40.
0x48>0x49>Dauer:0x49>0x48> 10 Sekunden
Points
Action type
20
Enhancing