I don't speak a word of German. Every guide is written in English. If you want to help, please send me an email or contact me on Facebook. You can also help me translate missing words for the interface. Thanks!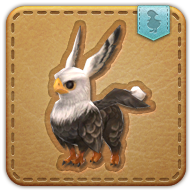 Greifen-Küken
Du rufst dein Greifen-Küken als Begleiter herbei. Nicht zu verwechseln mit Griffons oder Gryphen.
Eines Nachts, als er das schlagende Herz eines Greifen herausriss und den Göttern als Opfergabe entgegenstreckte, fand ein Jäger des Clan Centurio ein hungriges Greifen-Küken ... und nannte es Holger.
---
Learn more about this minion on Minion Guide: Greifen-Küken
Art
Auto-Attacke
Einzel
LP
ATT
ABW
GSW
Kosten
310
65
45
3
15
Stärke
Technik
Gefiederhag
Macht eigene Trabanten in der Nähe unempfindlich für Angriffe von Puppen.
0x48>0x49>Dauer:0x49>0x48> 5 Sekunden
Points
Action type
20
Enhancing