I don't speak a word of German. Every guide is written in English. If you want to help, please send me an email or contact me on Facebook. You can also help me translate missing words for the interface. Thanks!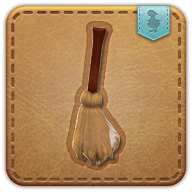 Emsig[a] Besen
Du rufst deinen Besen herbei. Völlig selbstständig macht er sich ans Werk und fegt die Umgebung blitzblank!
Die meisten Magier Eorzeas werden es nicht zugeben wollen, aber einen gewöhnlichen Besen zu einem selbstgetriebenen Hausdiener zu machen, ist deutlich komplizierter, als es den Anschein hat, und benötigt nicht weniger als sieben Phasen der Bindung.
---
Learn more about this minion on Minion Guide: Emsig[a] Besen
Art
Auto-Attacke
AoE
LP
ATT
ABW
GSW
Kosten
420
50
60
2
25
Stärke
Technik
Husch
Entfernt alle Effekte von allen Trabanten in der Nähe.
Points
Action type
20
Disarming