I don't speak a word of German. Every guide is written in English. If you want to help, please send me an email or contact me on Facebook. You can also help me translate missing words for the interface. Thanks!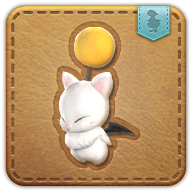 Mogry-Stofftier
Du rufst deinen putzigen Mogry herbei, kupo.
Eine Kreatur, die aus 90 % Liebe und 10 % Eifersucht besteht - oder waren es 90 % Eifersucht und 10 % Liebe? Dieses Meisterwerk wurde erschaffen, nach- dem die Mogrys im Finsterwald all die schicken Begleiter der Abenteurer bemerkten und mit von der Partie sein wollten.
---
Learn more about this minion on Minion Guide: Mogry-Stofftier
Art
Auto-Attacke
AoE
LP
ATT
ABW
GSW
Kosten
470
40
40
2
20
Stärke
Technik
Mogry-Menuett
Führt eine Attacke mit Attacke-Wert 90 auf die Gegner in der Nähe aus.
Points
Action type
20
Damage