I don't speak a word of German. Every guide is written in English. If you want to help, please send me an email or contact me on Facebook. You can also help me translate missing words for the interface. Thanks!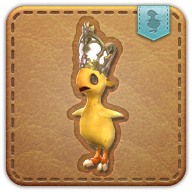 Chocobo-Prinz
Du rufst deinen Chocobo-Prinzen als Begleiter herbei. Er trabt gemächlich hinter dir her.
Ein reinrassiges Tier, das von dem legendären Veillantif abstammt. Dieser edle Vogel aus Ishgard benötigt einen Reiter, der den Namen seiner Familie nicht beschmutzen wird.
---
Learn more about this minion on Minion Guide: Chocobo-Prinz
Art
Auto-Attacke
Einzel
LP
ATT
ABW
GSW
Kosten
365
30
45
2
10
Stärke
Tore Schilde
Technik
Chocokrönung
Verringert die ABW von Gegnern in der Nähe um 50 %.
0x48>0x49>Dauer:0x49>0x48> 15 Sekunden
Points
Action type
20
Enfeebling