I don't speak a word of German. Every guide is written in English. If you want to help, please send me an email or contact me on Facebook. You can also help me translate missing words for the interface. Thanks!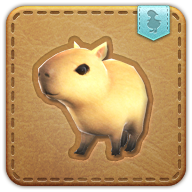 Capybara-Jungtier
Du rufst dein Capybara-Jungtier als Begleiter herbei. Ausgesprochener Badefreund, der Kleine.
In Hingashi kennt man die mal putzigen, mal bissigen Nager als "Onitenjikunezumi", die "Dämonenratte des Nahen Ostens". Ihre Vorliebe für heiße Quellen ist wohlbekannt, sie sind dort oft als ungebetene Gäste anzutreffen.
---
Learn more about this minion on Minion Guide: Capybara-Jungtier
Art
Auto-Attacke
Einzel
LP
ATT
ABW
GSW
Kosten
500
40
30
3
15
Stärke
Schilde
Technik
Rattenzahn
Fügt dem nächstgelegenen gegnerischen Arkana-Stein 5 % Schaden zu.
Points
Action type
30
Dismantling