I don't speak a word of German. Every guide is written in English. If you want to help, please send me an email or contact me on Facebook. You can also help me translate missing words for the interface. Thanks!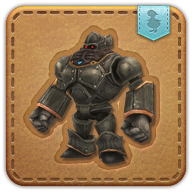 Automat[p] Nr. 8
Du rufst Automat Nr. 8 als Begleiter herbei. Ausgegraben in der Uhrwerksstadt Gog. Batterien bitte extra kaufen.
Als diese Maschine in der Uhrwerksstadt Gog gefunden wurde, war sie nicht funktionstüchtig, doch ein Kristall verhalf ihr zu neuem Leben. Solange du ihn nicht gegen einen Auraciten austauschst, solltest du sicher sein.
---
Learn more about this minion on Minion Guide: Automat[p] Nr. 8
Art
Auto-Attacke
Einzel
LP
ATT
ABW
GSW
Kosten
580
60
35
1
25
Stärke
Arkana
Technik
Reparatur
Fügt Gegnern in der Nähe Schaden in 5-facher Höhe des Attacke-Werts zu.
Points
Action type
20
Damage