I don't speak a word of German. Every guide is written in English. If you want to help, please send me an email or contact me on Facebook. You can also help me translate missing words for the interface. Thanks!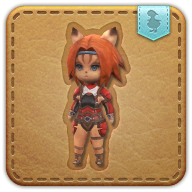 Mithra-Puppe
Du rufst deine Mithra-Puppe als Begleiter herbei. Nicht zu verwechseln mit anderen Felidae.
Ein Mechaniker der Gelehrten Baldesions schuf diese Puppe. Historiker können glockenlang darüber sprechen, warum sie einer Miqo'te ähnelt oder was es mit dem Scorpio-Rüstschutz auf sich hat, den die Puppe trägt.
---
Learn more about this minion on Minion Guide: Mithra-Puppe
Art
Auto-Attacke
Einzel
LP
ATT
ABW
GSW
Kosten
480
50
50
3
20
Stärke
Tore Augen
Technik
Mhigos Amigos
Erhöht die ATT eigener Trabanten in der Nähe um 20, im Fall von Puppen um 40.
0x48>0x49>Dauer:0x49>0x48> 6 Sekunden
Points
Action type
30
Enhancing