I don't speak a word of German. Every guide is written in English. If you want to help, please send me an email or contact me on Facebook. You can also help me translate missing words for the interface. Thanks!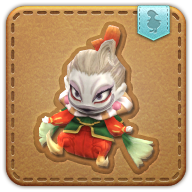 Kefka-Puppe
Du rufst deine Kefka-Puppe als Begleiter herbei. Eine schöne Erinnerung an Abenteuer vergangener Tage.
Y'shtola hat beim Anblick der Puppe, die du in der Sigmametrie gefunden hast, gesagt, dass sie ihr "entfernt bekannt" vorkomme. Aber keiner deiner Begleiter hat je zuvor von einem bösen Joker namens Kefka gehört.
---
Learn more about this minion on Minion Guide: Kefka-Puppe
Art
Auto-Attacke
Einzel
LP
ATT
ABW
GSW
Kosten
600
60
70
1
30
Stärke
Arkana
Technik
Ansicht eines Clowns
Halbiert den Ruf-Timer von Trabanten beim Herbeirufen.
0x48>0x49>Dauer:0x49>0x48> 10 Sekunden
Points
Action type
20
Special