I don't speak a word of German. Every guide is written in English. If you want to help, please send me an email or contact me on Facebook. You can also help me translate missing words for the interface. Thanks!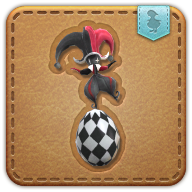 Joker-Ei
Du rufst dein Joker-Ei als Begleiter herbei. Ist da schon was geschlüpft?
Das Dankeschön aus den Händen von Jihli Aliapoh beherbergt Radcliffe den Roten, einen Weisen aus der Zeit der Sechsten Katastrophe.
---
Learn more about this minion on Minion Guide: Joker-Ei
Art
Auto-Attacke
Einzel
LP
ATT
ABW
GSW
Kosten
350
20
60
2
10
Stärke
Tore Augen
Technik
Joker-Pokerface
Entfernt alle negativen Effekte von eigenen Trabanten in der Nähe.
Points
Action type
20
Disarming