I don't speak a word of German. Every guide is written in English. If you want to help, please send me an email or contact me on Facebook. You can also help me translate missing words for the interface. Thanks!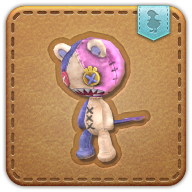 Aufzieh-Chimära
Du rufst deine Aufzieh-Chimära als Begleiter herbei. Vorsicht, beißt.
Chimära sind für den Untergang einer ganzen Zivilisation verantwortlich, weshalb sich die Frage stellt, wer sich solche Bestien als Spielzeug kauft. Vielleicht weil die Marionetten so süß aussehen.
---
Learn more about this minion on Minion Guide: Aufzieh-Chimära
Art
Auto-Attacke
Einzel
LP
ATT
ABW
GSW
Kosten
510
55
60
3
25
Stärke
Augen Schilde
Technik
Nachtschrecken
Verringert die Technikpunkte der Gegner in der Nähe um 50% des Maximalwerts.
Points
Action type
20
Enfeebling