I don't speak a word of German. Every guide is written in English. If you want to help, please send me an email or contact me on Facebook. You can also help me translate missing words for the interface. Thanks!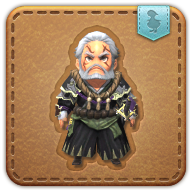 Gosetsu-Puppe
Du rufst deine Gosetsu-Puppe als Begleiter herbei. Seine Ehre ist sein Leben.
Die Nachahmung des stämmigen Samuraikriegers erfreut sich besonders in seiner Heimat Doma großer Beliebtheit. Dort ist man von der realistischen Ausarbeitung seines Schwertes besonders angetan.
---
Learn more about this minion on Minion Guide: Gosetsu-Puppe
Art
Auto-Attacke
AoE
LP
ATT
ABW
GSW
Kosten
320
60
30
2
15
Stärke
Schilde
Technik
Iai
Führt eine Attacke mit Attacke-Wert 150 auf die Gegner in der Nähe aus und verringert ihre ABW um 30%.
0x48>0x49>Dauer:0x49>0x48> 6 Sekunden
Points
Action type
20
Damage