I don't speak a word of German. Every guide is written in English. If you want to help, please send me an email or contact me on Facebook. You can also help me translate missing words for the interface. Thanks!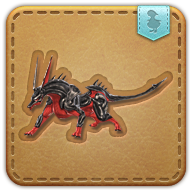 Höllenhundwelpe
Du rufst deinen Höllenhundwelpen als Begleiter herbei. So süß, aber blicke ihm nicht in die Augen!
Höllenhunde sind so wild, dass sie sich sogar im Nichts gegen andere Monster behaupten, und obgleich dieses Exemplar noch ein Welpe ist, leuchten seine Augen schon so eindringlich, dass einem bei Blickkontakt das Blut in den Adern gefriert.
---
Learn more about this minion on Minion Guide: Höllenhundwelpe
Art
Auto-Attacke
Einzel
LP
ATT
ABW
GSW
Kosten
420
45
45
4
15
Stärke
Augen
Technik
Geheul
Halbiert den Ruf-Timer von Trabanten beim Herbeirufen.
0x48>0x49>Dauer:0x49>0x48> 10 Sekunden
Points
Action type
20
Special