I don't speak a word of German. Every guide is written in English. If you want to help, please send me an email or contact me on Facebook. You can also help me translate missing words for the interface. Thanks!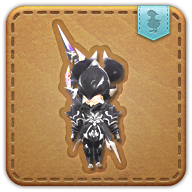 Estinien-Puppe
Du rufst deine Estinien-Puppe als Begleiter herbei. Sie ist dem Azur-Drachenreiter nachempfunden.
Als diese Puppe entworfen wurde, gab es angeblich Streit darum, ob auf der Lanze ein Pfirsich aufgespießt sein sollte. Letztendlich zeigt sie den Azur-Drachenreiter kurz bevor er Nidhogg zum Kampf herausfordert.
---
Learn more about this minion on Minion Guide: Estinien-Puppe
Art
Auto-Attacke
Einzel
LP
ATT
ABW
GSW
Kosten
380
45
20
4
10
Stärke
Tore
Technik
Supersprung
Versetzt die ausführenden Trabanten zurück zu Tor B.
Points
Action type
30
Special