I don't speak a word of German. Every guide is written in English. If you want to help, please send me an email or contact me on Facebook. You can also help me translate missing words for the interface. Thanks!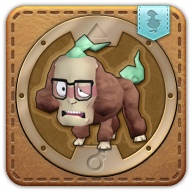 Möter
Du rufst deinen Möter-Begleiter herbei. Halb Hund, halb Mittvierziger.
Ein Pudel mit dem Gesicht eines Mannes. Erschreckt gerne Leute mit seinem Aussehen. Möchte eines Tages Firmenchef sein.
---
Learn more about this minion on Minion Guide: Möter
Art
Auto-Attacke
Einzel
LP
ATT
ABW
GSW
Kosten
530
30
30
3
15
Stärke
Tore
Technik
Wadenbeißer
Führt eine Attacke mit Attacke-Wert 90 auf die Gegner in der Nähe aus.
Points
Action type
20
Damage