I don't speak a word of German. Every guide is written in English. If you want to help, please send me an email or contact me on Facebook. You can also help me translate missing words for the interface. Thanks!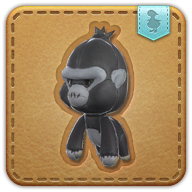 Sasquatch-Stofftier
Du rufst dein Sasquatch-Stofftier herbei. Füttern auf eigene Gefahr.
Ein fleißiges Mitglied der Gerber-Gilde schuf dieses Stofftier aus echter Sasquatch-Haut, um auf die Ausbeutung von Wildtieren aufmerksam zu machen.
---
Learn more about this minion on Minion Guide: Sasquatch-Stofftier
Art
Auto-Attacke
Einzel
LP
ATT
ABW
GSW
Kosten
420
45
45
3
15
Stärke
Schilde
Technik
Affentheater
Entfernt eine vom Gegner aufgestellte Falle.
Points
Action type
20
Disarming