I don't speak a word of German. Every guide is written in English. If you want to help, please send me an email or contact me on Facebook. You can also help me translate missing words for the interface. Thanks!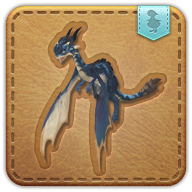 Drachenjung[a]
Du rufst ein Drachenjunges herbei. Diese Puppe, für die der junge Drache Kal Myhk Modell stand, wird dir ein treuer Freund sein.
Mogry-Handwerker haben diese Puppe nicht nur äußerlich dem gerade einmal 30 Jahre jungen Drachen Kal Myhk nachempfunden, sondern dafür sogar echte Schuppen verwendet, die der Drache bei einer Häutung abgestreift hat.
---
Learn more about this minion on Minion Guide: Drachenjung[a]
Art
Auto-Attacke
Einzel
LP
ATT
ABW
GSW
Kosten
510
75
60
1
30
Stärke
Arkana
Technik
Jungdrachenatem
Führt eine Attacke mit Attacke-Wert 230 auf die Gegner in der Nähe aus.
Points
Action type
20
Damage