I don't speak a word of German. Every guide is written in English. If you want to help, please send me an email or contact me on Facebook. You can also help me translate missing words for the interface. Thanks!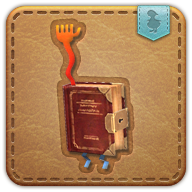 Seite[p] 63
Du rufst deine Seite 63 als Begleiter herbei. Weiß sie, was auf den 62 Seiten vor ihr stand?
Die in Blut gefassten Geheimzeichen auf der Pergamentseite lassen ein unbehagliches Gefühl in dir aufkommen. Vielleicht ist es auch nur die Tatsache, dass die Seite dir auf Schritt und Tritt folgt.
---
Learn more about this minion on Minion Guide: Seite[p] 63
Art
Auto-Attacke
Einzel
LP
ATT
ABW
GSW
Kosten
415
30
35
1
10
Stärke
Arkana Tore Augen
Technik
Zensuraufhebung
Führt eine Attacke mit Attacke-Wert 90 auf die Gegner in der Nähe aus.
Points
Action type
20
Damage