I don't speak a word of German. Every guide is written in English. If you want to help, please send me an email or contact me on Facebook. You can also help me translate missing words for the interface. Thanks!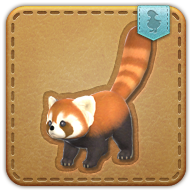 Rotpanda-Stofftier
Du rufst dein Rotpanda-Stofftier als Begleiter herbei. Flauschig, niedlich und rot.
Man munkelt, dass ein gewisser Legatus des Kaiserreichs mit einem Rotpanda-Stofftier zu schlafen pflegte, doch bei Gerüchten solcher Art handelt es sich meist um mhigische Schmutzkampagnen.
---
Learn more about this minion on Minion Guide: Rotpanda-Stofftier
Art
Auto-Attacke
Einzel
LP
ATT
ABW
GSW
Kosten
405
95
50
4
25
Stärke
Tore
Technik
Zähnefletschen
Fügt einem gegnerischen Schild 70 % Schaden zu. Kein Effekt, falls er schon zerstört ist.
Points
Action type
30
Dismantling