I don't speak a word of German. Every guide is written in English. If you want to help, please send me an email or contact me on Facebook. You can also help me translate missing words for the interface. Thanks!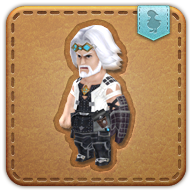 Cid-Puppe
Du rufst deine Cid-Puppe als Begleiter herbei. Legendäres Luftschiff nicht in der Packung enthalten.
Die Spielzeugversion des legendären Ingenieurs erweist sich als Verkaufsschlager, der den Wert der Garlond-Metallwerke in neue Höhen treibt.
---
Learn more about this minion on Minion Guide: Cid-Puppe
Art
Auto-Attacke
Einzel
LP
ATT
ABW
GSW
Kosten
500
70
70
4
30
Stärke
Tore
Technik
Magitek-Falle
Stellt eine Falle auf, die nach 10 Sekunden ausgelöst werden kann. Bewirkt eine Attacke mit Attacke-Wert 180 auf die Feinde in der Nähe.
Points
Action type
20
Trap