I don't speak a word of German. Every guide is written in English. If you want to help, please send me an email or contact me on Facebook. You can also help me translate missing words for the interface. Thanks!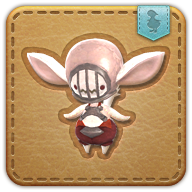 Aufzieh-Kobold[p] Nr. 2
Die unbestrittene - und ewige - Nummer 2 der Kobolde.
Unzufrieden mit der Explosivkraft des ersten Exemplars, kehrte Ba Go in sein Laboratorium zurück und erschuf den Kobold Nr. 2. Mit Erfolg, denn Nr. 2 lebt!
---
Learn more about this minion on Minion Guide: Aufzieh-Kobold[p] Nr. 2
Art
Auto-Attacke
Einzel
LP
ATT
ABW
GSW
Kosten
440
20
45
2
10
Stärke
Schilde
Technik
Supersprengstoff
Führt eine Attacke mit Attacke-Wert 300 auf die Gegner in der Nähe aus, aber die ausführenden Trabanten werden weggeschickt.
Points
Action type
30
Damage