I don't speak a word of German. Every guide is written in English. If you want to help, please send me an email or contact me on Facebook. You can also help me translate missing words for the interface. Thanks!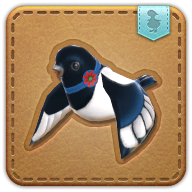 Klein[a] Elster
Du rufst deine kleine Elster herbei. Angeblich kündet ihr Zwitschern von glorreichen Siegen.
Der Legende nach ist sie eine Botin der Mondgöttin Menphina und fliegt durch den Sternenhimmel, um ihre Liebe zu überbringen. Eine im Fernen Osten heimische Vogelart, die als "Sagenvogel" beworben nach Eorzea gebracht wurde.
---
Learn more about this minion on Minion Guide: Klein[a] Elster
Art
Auto-Attacke
Einzel
LP
ATT
ABW
GSW
Kosten
310
60
45
3
15
Stärke
Tore
Technik
Liebesserenade
Erhöht die ABW der ausführenden Trabanten um 40.
0x48>0x49>Dauer:0x49>0x48> 10 Sekunden
Points
Action type
20
Enhancing